Our Business
We provides best IT solutions rapidly against customer's problems and issues in various business process. We contribute customer's business Improvement and solving problem by Website application development or software package.

We provide one-stop solutions from finding current concerns & requirement, system design, development and after support.
1)Software Packages Installation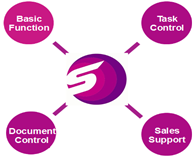 We have various Software packages for each business field. We will select best packages that match to your requirements. After that, we will discuss with customer to expand gradually by high priority functions.
2)Website Application Development
We develop Website application for respond specific business and customer need. Because we develop by our framework then we can provide high quality applications quickly.